OCW Presents: Equality
LIVE! Tuesday, August 23rd, 2022!
FROM: TD Center
IN: Boston, Massachusetts
~We cut from the AMAZING intro video to the OCW Studio where Lissandra Thomas and Cheasy M are standing in front of an OCW backdrop. Lissandra is dressed to the nines as always while Cheasy is decked out in a black tuxedo. His stache game is on point this evening.~
Lissandra: Welcome folks, to a special edition of Tuesday Night Equality. Technically this IS the seventeenth Tuesday Night Equality, but this also counts as a very special Massacre Night TWO because we were so overbooked! Tonight's episode is a very special homage to Old School Wrestling and for tonight….. I'm here with Cheasy M! Cheasy! How are you? I haven't seen you since OCW Piledriver.
Cheasy M: It's great to be joining you here on this historic night, as last night's Massacre and tonight's Equality move us toward the Margarita Mix this Sunday. As for how I'm doing… I'm fine as wine, just like you look this evening Lissandra.
Lissandra: Well thank you, Cheasy. Now since we're celebrating all that is old school, I'm told that Lord Allton has something special in store for tonight regarding his entrance.
Cheasy M: Let's head to the ring and see what he has to say!
~Our scene cuts to the inside of the TD Center in Boston, MA. "Real Good Looking Boy" by The Who blasts from the speakers and the OCW Faithful cheer immensely!~
Lissandra: Holy Cow! Cheasy, this is Lord Allton's very first theme that he ever used!
~Allton emerges through the curtain on Quinn and stays at the top of the entrance way soaking in the cheers.~
Cheasy M: And there he is. It's good that he isn't dressed as the clown tonight.
Lissandra: Oh, Cheasy… PennyLord is a Children's TV character on PennyLord's Playpit these days…seen right here on The O Network.
Cheasy M: Yes, I know. I was in the premiere episode!
Allton: Hello OCW Faithful and welcome to a very special Old-School episode of Tuesday Night Equality. Tonight, I'm not here as Equality GM, no. Tonight I am here as a spectator! A fan, like all of you lovely people! I grew up watching Old-School Wrestling with my Dad. And when management pitched the idea to me to celebrate Old-School Wrestling I had to. So, sit back and think back to the awesome days of grainy TV pictures of the 70s and 80s. And get ready for awesome Old-School promos of yesteryear. Because TONIGHT we celebrate the legend of Pro-Wrestling itself. It's headlocks and bodyslams galore, people! Enjoy. Now…….ON WITH THE FUCKING SHOW!!!!!!!!!!!!
~The OCW Faithful join in with Allton's tagline and then he heads backstage with a smile. The screen cuts back to Lissandra and Cheasy M, still standing in their original positions in the studio.~
Lissandra: A strong, albeit colorful introduction by Lord Allton.
Cheasy M: Indeed. But you heard the man, there's no need to waste any more time when we've got some amazing in-ring action in store. Our opening contest is set to feature three newcomers to OCW in Justin York, Estrella Luiz, and Harmon "Harmony" Egan who picked up his first win just last week on Massacre.
Lissandra: You're right Cheasy. Those three will join an OCW veteran in "Marvelous" Mike Mason who's been mysteriously absent in recent months. And to add a little extra motivation to the mix, the winner of this matchup will become the number one contender for the Craze Championship!!!
Cheasy M: It proves to be an exciting opening contest for sure. We'll take a quick commercial break, then be back to bring you the action right here, on THE O NETWORK and HOTv!
---
COMMERCIAL BREAK
---

~Opening on a shot of the exterior of a suburban home. Inside the kitchen we see two bored children. A boy and a girl. Their parents enter the scene. An upbeat generic song is playing in the background. ~
Dad: Hey kids! We're eating out! What do you want for supper tonight?
Mom: Yeah, guys! Pizza?
~The kids shake their heads 'no'. The video sped up.~
Dad: Burgers??
~Kids shake their head again. Sped up faster.~
Mom: Chicken???
~Shaking heads 'no'. Sped up to ludicrous speed.~
Dad: No Pizza? No burgers? No chicken? Well by darn tootin' what are you kids fishing for??
~The kids look at each other with big smiles. Look at their parents and together yell...~
Kids: WE WANT 'FISH HEADS!!!!!'
~A record scratch sound effect is heard as a cartoony song plays with a montage of clips of fish heads being deep fried. Happy employees but even happier customers ordering and eating their food.~
Narrator: Come on down to Fish Heads. For less than 20 dollars. You can enjoy the Fish Heads family pack meal. Four large sodas. A family size French fry box. And a 12 pieces of our famous fried Fish Heads. For less than 20 dollars!! And don't forget to try our Rolly Polly Squid Dipping sauce. Made from real squid! And did we mention that kids eat FREE on Tuesdays...
~We cut to a couple beautiful busty bikini models hugging and caressing the shirtless oiled up muscular body of a man in a realistic(creepy) fish head mask. Standing in front a FISH HEADS restaurant. ~
Fish Head Man: So what are you waiting for! Skip the dishes and eat with the fishes... and sing the words...
Kids Singing: "FISH. HEADS. FISH. HEADS. ROLLY POLLY. FISH HEADS. FISH. HEADS. FISH. HEADS. EAT THEM UP, YUM!!!!!"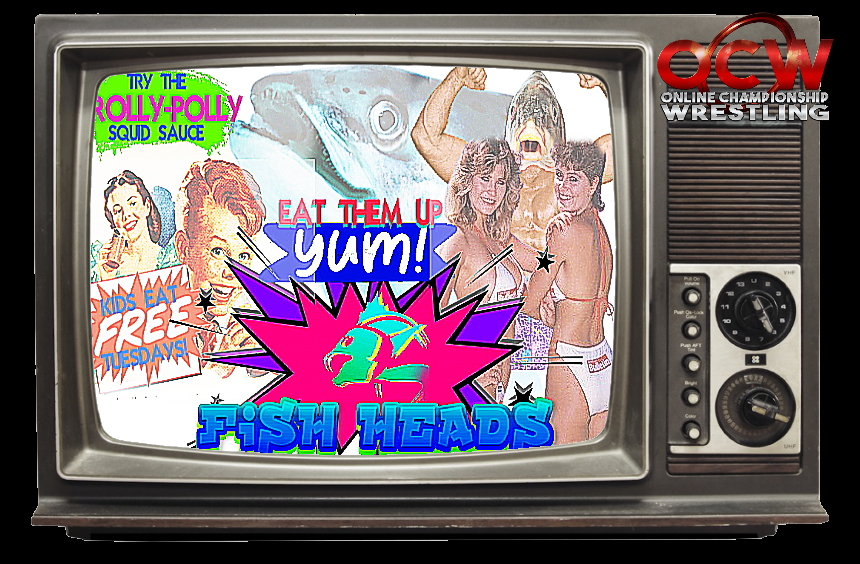 ---
---
A TRIP TO MECCA
---
~The shot opens to "Marvelous" Mike Mason standing in front of a green screen Mount Rushmore. TM1 is dressed in a skin tight white polo with his glasses pulled up on his head.~
Mason: So, they wanted the Marvelous One to talk about his match and opponents, but the Bod God would rather talk about something that is important, and they are not at all important. What is important is M.A.M, Make America Marvelous.
No deaf soy boy, no gambling addict, and no anchor baby will make the Craze title, OCW, or America marvelous. For far too long this country has been pulled down into the gutter by troglodyte simpletons. Spineless, weak, liberals have let others run over them in the name of "fairness" and "kindness". While greedy, fat, out of shape conservatives have made people fat and lazy through the ease of automation in the name of capitalism.
With The Big Natty Daddy sitting at the big desk, America will once again become the global powerhouse. It will also become the Mecca.
THE MECCA OF MANHOOD!!!
~A bald Eagle screeches and flies across the screen as the shot fades to a "Mason 2024" logo.~
---
HARMONY RUNNING WILD!
---
~We see Harmon Egan standing in front of a simple black backdrop with the OCW logo splattered on it. Just off to the side, Diana Watts is shooting Harmon a thumbs up as she passes him some large cue cards. Harmon looks at them, frowns, and looks at Diana again. Diana now gives him two thumbs up! Harmon sighs and holds up the cards.~
Estrella, Mecca of Manhood, Casino Kid....let me tell ya somethin' BROTHERS!
~Harmon drops the card, revealing the one behind it.~
If any of you think you're coming out of this match with a win, these 18 inch pythons beg to differ!
*Drop*
And when I unleash these savage pythons Tuesday night, none of you can deny...
~Harmon sneaks a peek at the next card before dropping it, rolling his eyes. Finally, he reveals it.~
....that HARMONAMANIA HAS RUN WILD ON YOU!!!!!
~He looks at his new ally Diana once more as if to say "Really?" She shrugs and shoots him a playful smile as they both walk off camera.~
---
---
Fatal Four Way Match (CRAZE CONTENDER)
Mike Mason vs. Harman Egan vs. Justin York vs. Estrella Luiz
---


Belvedere: This Craze Title Contendership match is scheduled for one fall and is a FATAL FOUR WAY MATCH!!! Introducing first, from Miami, Florida… "Marvelous" Mike Mason!!!
~"Power" by Kanye West begins to play over the PA and the crowd instantly begins to boo. As the words "I'm the man, I'm the man, I'm the man" play, a spotlight shines on the entrance way revealing the Marvelous One. His back is to the crowd, and his arms are spread out wide revealing the rhinestones words "Simply Marvelous" on the back of the robe. He spins around with a huge and cocky smile on his face. The light bounces off of his sequin and rhinestone white ring rob, with purple and blue designs on it. The darkness is replaced with a soft purple glow, but the spotlight stays on The Mecca of Manhood. The Marvelous One struts to the ring, walking slowly, taking his time and allowing everyone to view him. He climbs the ring stairs and instructs the referee to hold the ropes open for him. The Ref holds the ropes open and the Marvelous One steps through and wins around in a 360 to the middle of the ring. He unties his robe, and removes it slowly, handing it to the referee. He then hits a front double bicep in the center of the spotlight as the music fades out.~
Belvedere: Next, weighing in at 175 pounds… Harmon "Harmony" Egan!!!
~Mike Mason slides out of the ring as a pair of black rimmed eyes open up on the main screen. The arena is bathed in white and the song starts its opening beats. When the song comes to its crescendo the white light is intermixed with violet whirling lights as the main screen shows shots of Harmony in action intermixed with flowing Rorschach inkblots. Harmony appears at the top of the ramp and books it to the ring, sliding in under the bottom room "Edge style" and crawling to the camera at mat level. He shoots the camera a confident smirk and kips up to his feet, ready for action.~
Belvedere: Their opponent, from Toronto, Ontario, Canada… "The Casino Kid" Justin York!!!
~The lights in the arena go completely dark as 'One For The Money by Escape The Fate' hits the speakers. Only a spotlight hits the very top of the stage as you see a man standing with his back turned. The back of the shirt reads 'Casino Kid'. Pyro goes up into the air from both sides of the stage as all lights then come on and Justin York turns and begins his way down the ramp, Taunting fans as he goes. Once entering the ringside area he talks a walk around the ring rudely gesturing the crowd and taunting some more before getting into the ring and giving his signature middle finger to the camera with a cocky smirk while boos reign down from the arena. He turns toward Harmon and flips him off as well before leaning back in the opposite corner.~
Belvedere: And finally, from Los Angeles, California… Estrella Luiz!!!
"Ooh
One day when I woke up I fucking snapped, yay
Put on my Loubies and my mad hat
Can't tell me nothing, I'm a big brat"
~Estrella Luiz walks out smirking from ear to ear as the boos ring out throughout the arena. She walks slowly to the ring. She slides in and looks around at her opponents as she begins nodding her head feeding on the boos from the crowd. Mason cautiously walks up the ring steps and through the middle rope as the referee calls for the bell.~
DING DING DING
~As soon as the bell sounds Luiz, Harmony, and York simultaneously rush toward Mike Mason with an attack. York is first to hit Mason with a forearm smash, Harmony sweeps his leg sending him flying to the mat, then Luiz quickly hops over him and bounces from the middle rope to the top before hitting a perfectly executed asai moonsault. Mason quickly rolls outside the ring while the three quickly pose for the audience.~
Lissandra: What an amazing show of athleticism early on by the three newcomers to OCW.
Cheasy M: It's a smart move if you ask me. Mason might weigh more than the three of them put together AND he's been around the block a time or two. Taking out the veteran early makes a lot of sense.
~York takes off running, bounces off the ropes and leaps over the top with a crossbody onto Mason on the floor. Luiz looks to do something similar but Harmony reaches out and pulls her back by the hair, slamming her to the mat. Luis pops up and the two lock up in the middle of the ring. Harmony grabs a quick side headlock, then takes Luis over and down to the mat. He wrenches in the hold, then spins out. He hops to his feet and drops an elbow to the back of Luis. He rolls her over for a quick cover.~
1!
Kickout!
Lissandra: A couple of elbows to the back aren't going to be enough to keep Estrella down.
Cheasy M: She's one saucy lady, that's for sure.
~The two hop quickly to their feet. Luiz charges forward but Harmony leapfrogs her. She's able to put on the breaks and deliver a back kick to his lower back as he lands. He spins and doubles over, giving her the opportunity to jump over him with a sunset flip. She tries for the pin but Harmony rolls out, then drop kicks her in the face. He goes for another cover.~
1!
2!
~York comes flying off of the top rope with a springboard forearm shot to the back of Harmony's head. Harmony rolls away, grabbing the back of his neck in pain. York wastes no time as he lifts Harmony to his feet and nails him with forearm smash after forearm smash to the face. Harmony backs into the corner. York whips him across as Harmony smashes hard into the opposite corner. As he stumbles out, York slides in with a snap powerslam and the pin.~
1!
2!
Kickout!
Cheasy M: Hooooooochie mama! Look at this action!
Lissandra: Justin York looks like he's being shot out of a cannon right now. Incredible athleticism and quickness.
~The crowd seems to want to get behind York, but he flips them off. He turns toward Harmony but finds himself face to face with Mike Mason instead. York attempts another forearm but this time Mason is ready. He grabs the arm, spins York around, and tosses him in the air. As York comes down, Mason extends his knee and connects with a devastating back breaker. York folds like an accordion. Mason picks him up off the mat and hits him with a belly to back suplex. He doesn't let go, picking him back up, spinning York around. He lifts him high into the air and holds him there for several seconds while some in the crowd count. He then drops York with the stalling vertical suplex before making the pin attempt.~
1!
2!
~Luiz with the save! She kicks Mason in the back of the head to disrupt the pin, but Mason doesn't seem phased by it. He lets go of York and stands to his feet, towering over Luiz. Mason scoops Luiz up and looks to go for a back breaker when Harmony launches himself from the top rope and connects with a missile drop kick to Mason's face. Mason falls backwards as Luiz takes advantage by going for the pin.~
1!
2!
3! NO!
~Mason manages to drape his foot on the ropes before the referee's hand hits the mat. Frustrated, Luiz hops to her feet only to be hooked from behind by Harmony with a guillotine choke!~
Lissandra: Harmony has the guillotine choke locked in, and tight.
Cheasy M: Just when someone seems to have an advantage in this match, there's someone else there to gain the upperhand. Reminds me of my alimony payments… I can't keep up!
~The referee comes over checking to see if Luiz is willing to tap. York gets to his feet in the corner and sees the submission hold. He sets his sights on Harmony and delivers a running knee right to his face. Harmony releases his grip on Luiz as he grabs his face. York lifts Harmony off the mat and whips him into the ropes. Harmony throws a clothesline but York ducks. As Harmony turns around York hooks his head, bounces off the middle rope onto the top turnbuckle, then kicks off delivering a tornado DDT to Harmony.~
Lissandra: The crowd is loving this action. Justin York now seems to firmly be in control of the match.
Cheasy M: I still say it's anyone's game. But this new York guy is definitely making an impression.
Lissandra: New York guy?
Cheasy M: You get it.
~York debates going for a pin, but notices Mike Mason getting to his feet in the corner. He goes over to him and delivers a knife edge chop, followed by another. This seems to energize Mason, who quickly throws York into the corner and unleashes a barrage of chops of his own sending echoes throughout the arena. Across the ring, Luiz is getting to her feet in the opposite corner. Mason whips York smashing into her. He then takes off and delivers a huge spear to both competitors in the corner. Luiz doubles over and rolls out of the ring, while Mason goes for the cover on York.~
1!
2!
Kickout!
~York gets a shoulder up. Mason picks York to his feet and delivers a scoop slam, then drops an elbow to York's sternum. Instead of going for another pin, he drops to the mat and wraps both legs around York, hooking him with a full nelson and pressing his intertwined fists into the back of York's neck.~
Cheasy M: Mike Mason came to play! He's showing why many consider him to be one of the best true powerhouse wrestlers in the game.
Lissandra: The man clearly spends many hours in the gym and it shows. He's having his way with Justin York.
~Mason notices Harmony across the ring and releases his hold. He climbs to his feet and charges at Harmony, who ducks a clothesline and delivers a back kick to the gut of Mason. Harmony begins delivering a series of leg kicks to Mason's midsection until he drops to his knees. Harmony continues his kicks, this time focusing on Mason's sternum. He bounces off the ropes and connects with a modified version of his running STO maneuver. He gets to his feet and is immediately hit with a low blow from behind by Luiz! Harmony rolls to a corner holding his groin in pain. Luiz, still feeling the effects of the offense she has taken, retreats to her own corner to regroup. Mason and York begin to stir in their respective corners as well as the crowd begins amping up their noise.~
Lissandra: This match has been a non stop adrenaline rush, and it feels like we're just getting started.
Cheasy M: It truly is anyone's game at this point. Every competitor has given their best effort and here we are, back to square one with all of them on equal footing.
~York is the first to move, rushing across the ring toward Harmony in the corner. He hits a step up enziguri on Harmony, sending him to the mat. Luiz rushes him from behind but York moves out of the way. Luiz hits the turnbuckle chest first, then turns around. York kicks her in the stomach, positions her between his legs. And slams her with a buckle bomb. The back of her head smashes against the top turnbuckle as she folds to the mat.~
Lissandra: It looks as if Estrella Luiz has been knocked cold with that sick buckle bomb by Justin York.
Cheasy M: If he makes the cover here this match is over!
~York moves forward but is layed out with a stiff clothesline from Mike Mason. Mason scoops him off the mat and slams him hard in the middle of the ring. Mason picks him back up, puts his head between his legs, and lifts him in the air, dropping him with a sick piledriver! Mason makes the cover.~
1!
2!
3!!!
NO!!!
~Harmony springs out of nowhere, connecting with a running STO to Mason at the last possible moment, breaking up the pin. He wastes no time mounting Mason and pummeling him with right hand after right hand. He looks to go for a submission hold, but sees the other two competitors in the ring and has second thoughts.~
Cheasy M: This has to be hard for Harmony. His offense is so heavily geared toward a submission style, but in a fatal four way match, it's almost impossible to lock in a submission without one of the other competitors breaking it up.
Lissandra: That's a great point, Cheasy. I've been so impressed with Harmony this evening. He's adapting to his surroundings and making a big impact here in OCW already.
~Harmony gets to his feet, bounces off the ropes, and drops a knee to Mason's face. He goes to try it again but Justin York cuts him off, whipping him into the corner instead. As Harmony stumbles forward, York kicks him in the stomach and in one fluid motion connects with a CANADIAN DESTROYER!!! He goes for the pin.~
1!
2!
~Boot to the head by Mike Mason! York rolls off of Harmony and holds his head in pain. Mason lifts York off the mat, hooks him, and delivers an EXPLODER SUPLEX!! York bounces hard off the mat and rolls to the outside. Mason turns his attention to Harmony and motions to the crowd that the match is over. He lifts Harmony into his arms and grins a sinister grin. Estrella Luiz gets to her feet behind him. The crowd sees this and begins cheering. She rushes forward while Mason simultaneously releases Harmony high over his head with a fall away slam. Harmony manages to hook his legs around the head of Luiz before going down. He spins her around with a hurricanrana but holds on for the pin!~
1!
2!
3!!!!!!
DING DING DING
~Mike Mason turns around, unsure of what happened behind him. Harmony immediately rolls out of the ring and heads up the ramp, the referee following behind to raise his hand.~
Belvedere: Here is your winner… and NEW #1 CONTENDER FOR THE CRAZE CHAMPIONSHIP... HARMON "HARMONY" EGAN!!!!!
~Mason begins shouting profanities in the ring at Egan as he leans over the top rope, pointing his finger. York remains on the outside of the ring, still feeling the effects of the match. Mason, pissed he had the match stolen from him, sees Estrella Luiz lying on the mat. He lifts her up and smashes her back to the mat with Simply Marvelous. He gives her motionless body a kick for good measure before rolling out of the ring.~
Lissandra: Harmony did it! He eeked out the win by hitting a hurricanrana/pinning combination on Estrella Luiz while being thrown halfway across the ring! He's next in line for a Craze title shot!
Cheasy M: I've never seen anything like that Lissandra. Mike Mason had the match won, but a last second stroke of genius by Harmon Egan stole the victory.
Lissandra: I'll be interested to see where the status of this title shot lands after last night's controversial finish to the Craze Title Match between Helena Handbasket and the champion, Crash Rodriguez.
~Just as Lissandra says that we see Mason at the bottom of the ramp pointing up at Egan, pissed off. Egan looks back at Mason...he's then sent flying forward via an attack from behind!!! Egan tumbles onto the ramp! The fans start to express their displeasure as we see Helena Handbasket rushing forward, putting the boots to Egan~
Lissandra: Welp, there ya go.
Cheasy M: You called it. Helena could've, should've walked out last night as Craze Champion but a literal GANG WAR broke out and it cost her the victory. Now, it looks like OCW is trying to move on without her.
Lissandra: Yep. They've already got Egan pegged as the next contender...but what about Helena? She didn't lose.
~Helena pulls Egan up...they're about halfway up the ramp...she then slings him off the side of the ramp, sending his body flying and crashing into the barricade. A rough landing for the Craze Contender. OCW staff rushes over to check on him. Helena then stares into the camera she motions around her waist...she isn't finished. THIS isn't finished~
Lissandra: I think it's pretty clear that Helena is not going to let Harmon Egan jump her in line. She didn't lose. She wants another shot and I think she deserves one.
Cheasy M: Things are certainly about to get really interesting in that title scene.
Lissandra: Folks, let's take a break but don't go anywhere. We've got tons more OCW action headed your way!
---
COMMERCIAL BREAK
---
---
BACK TO THE STUDIO
---
~We head back to the studio with Lissandra and Cheasy M now donning seats behind a desk like news anchors.~
Cheasy M: Wow, what a way to kick off this special edition of Tuesday Night Equality. That was one of the more competitive matches we've ever seen on this show.
Lissandra: The OCW roster is as talented as it's ever been, and that match provides the evidence. The three newcomers and Mr. Non-PC himself just put on a modern wrestling clinic, with Harmon "Harmony" Egan edging out the competition. But we're just getting started!
Cheasy M: I can't wait to see what happens… hey, what's this?
Lord Allton: Hello both.
~Lissandra and Cheasy turn around and Lissandra smiles broadly - Cheasy M however does not.~
Lissandra: Hi, Rob! Come and join us! Cheasy, move up.
~Cheasy M grumbles.~
Lord Allton: Have I offended you?
Cheasy M: You don't remember do you?
Lord Allton: I'm sorry….?
Cheasy M: You threw a large knife at me while I was strapped to a board!!
Lissandra: That was PennyLORD! But perhaps now isn't the time Cheasy?
Lord Allton: I was doing a skit for Children's TV!
Cheasy: I could have been killed and you're a menace!
CJ O'Donnell: How ya FOOKS doin'?
~Lord Allton, Cheasy, and Lissandra stop talking when out of the corner of the studio walks none other than "The Distinguished" CJ O'Donnell. He waves at them as he walks over to the table and takes a seat next to Lissandra.~
Lissandra: Ladies and gentlemen, this is truly a surprise. OCW superstar and frequent participant in Tuesday Night Equality, CJ O'Donnell is here in the studio! Great to see you!
CJ O'Donnell: Same to you, Lissandra. Allton, Cheasy. I hope you guys don't mind, I had some extra time and thought I'd join you in some match commentary.
Lord Allton: With that, I'll take my leave. I just wanted to stop by and lend my support. It was great to see you all. You are representing Tuesday Night Equality well.
~Lord Allton makes a hand gesture as he leaves. Cheasy recoils, having flashbacks of knives coming toward his face. Lissandra nudges him as he regroups.~
Cheasy M: Uh... err, no CJ, we don't mind you being here at all. In fact, you're just in time for what should be an amazing match up as Lissandra's husband, The "A-Lister" Dylan Thomas, one of your opponents THIS Sunday at The Margarita Mix, takes on OCW upstart Diana Watts making her OCW in-ring debut.
CJ O'Donnell: Oh! Dylan is one of my opponents Sunday? You don't say.
~CJ gives a slight wink and a nod to the camera.~
Lissandra: Ok, CJ… behave! Dylan has been as excited as I've seen him in a long time about this weekend, and this match tonight. He and Diana entered into an agreement last night on Massacre that neither would have any outside help during tonight's match.
Cheasy M: It was a gentlemen's... or gentlewomen's agreement to be sure. The two shared some pre-match thoughts earlier today. Let's check them out!
---
WHAT'S IN "A" NAME?
---
~Cut to the backstage area. An intense looking Diana Watts stares directly into the camera. Standing in front of only a blue curtain stamped with OCW logos on it. Without hesitation she begins screaming and points her right finger at the camera.~
Diana: Let me tell you something, Dylan Thomas! You go around saying you are The A-List!! But let me ask you something, dude!! What exactly does the 'A' stand for in A-List? Huh? Does it stand for 'Attitude?' No way jose! A kitten playing with a ball of twine has more attitude than you. Does it stand for 'Acclaimed'? Doubtful! The only thing you Dylan Thomas should be acclaimed for is the beating you're about to receive courtesy of me, The Diana Watts! But what does the 'A' stand for? Afraid? Are you afraid of losing to The Diana Watts tonight, Dylan Thomas!? Or is it Annoyed? Annoyed that an OCW legend such as yourself gets beaten by a capable newcomer in me? Or maybe the A stands for Awful? Atrocious? Appalling? Agrodolce? Or is it... Angry? Is it Angry, Dylan Thomas? Well, The Diana Watts doesn't have time for your anger Dylan Thomas. Or time for any other letter in the alphabet to describe you. Because The Diana Watts cares about only one letter. And that's 'W'. And that 'W' stands for the huge WIN I get tonight after defeating you at Equality!!!!
~She flexes hard until her face goes red. While flexing she makes a 'W' with her fingers. The camera slowly zooms in on her hands before fading out.~
---
PERFECTION, PERSONIFIED
---
~Dylan Thomas stands in front of a set of lockers in the backstage area staring deeply into the camera.~
Dylan: Diana Watts. First and Foremost, welcome to OCW. I look forward to what you can do in the ring. Now you ask what the 'A' stands for in A-List, well a few years ago, I'd have said it stands for 'Asshole'. These days I would say… 'Awesome'. But you don't really give a shit about any of that, do you? With all your talk of anti-capitalism and 'sticking it to the man'. It's cute, it really is but let's be real here for a moment Watts. What it comes down to is jealousy. You're jealous that I'm rich, living in a big Hollywood mansion and you are in a $2 restaurant dreaming your dream and doing a cute little dance.
But the truth is Diana… I KNOW what it's like to be dreaming that dream and working a dead end job. I wasn't born into money - my wife was, but I wasn't. Let me show you why, along with Mike Zybala, they call me the Heart and Soul of OCW.
In our match, Diana Watts…. You're not going to beat one of the gatekeepers of OCW. Whereas my win against you, is going to be nothing short of Perfection, Personified.
---
---
Singles Match
Dylan Thomas vs. Diana Watts
---
Belvedere: The following contest is scheduled for one fall, and has a 20 minute time limit. Introducing first, from Cleveland, Ohio… Diana Watts!!!
~K.Flay's 'The Muc' hits in the arena. Green strobe lights give the arena a mild headache as Diana Watts walks out from the curtain. She walks down to the ring high fiving the few fans who reach out and cheer her on. She slides into the ring and stretches her arms and rubs her knuckles together ready for the match to begin.~
Belvedere: And her opponent, from Hollywood California, by way of Greenwich, CT, weighing in at 225lbs……HE! Is the A-Lister of OCW, the gatekeeper - the Heart and Soul of OCW. He is 'Perfection Personified'!!!!!!!!!!!!! Dylan!!!!!!!!!!!!!!!! Thomas!!!!!!!!!!!!!!!!!!!
~The opening bars of 'Watch Me Shine' by Fozzy play over the PA system and fans in attendance begin to stand with a subtle 'DT' chant. After a few moments the curtain jerks and through it steps everyone's favourite Hollywood A-Lister, Dylan Thomas. Dylan slaps the hands of fans on the way down and reaches the 'Dylan Section' of the crowd. Here, Dylan makes sure to take a few photos with the lucky fans within this section. He then makes his way into the ring after a few more high fives. Dylan hops up onto the apron, leaps up onto the nearest corner, and raises his arms in the air. He drops down and turns to face a determined Diana.~
DING DING DING
Cheasy M: It's a little odd seeing Dylan come to the ring without you by his side, Lissandra.
Lissandra: It is weird not being with him for sure. It's not very often that I have to do commentary on one of his matches. It's rather nerve wracking.
CJ O'Donnell: I know what it was like not having Alice around the past month or two. It can be difficult to work through at times.
Cheasy M: Correct me if I'm wrong, but Dylan appears to be more jacked than usual.
Lissandra: He does have a new workout regimen right now.
Cheasy M: Well it shows.
~Dylan and Diana begin circling each other in the ring. Diana, eager to prove herself, rushes toward Dylan and the two lock up. A quick power struggle is won by Dylan, who grabs a side headlock. Diana pushes him off into the ropes. Dylan bounces off and nails a huge shoulder tackle sending Diana to the mat. Dylan hops over her and bounces off the ropes, Diana rolls toward him. He jumps over her, hitting the other side of the ropes. She bounces to her feet and hits a hip toss to Dylan. He gets up and Diana immediately hits an arm drag, then another, this time holding onto Dylan's arm on the mat. She wrenches it a couple of times before slowly working her way back to her feet. Dylan reverses the hold into an arm bar of his own. He tugs a few times trying to dislocate her shoulder before ultimately connecting with a short arm clothesline, sending Diana to the mat. She rolls out to the outside of the ring to regroup while the fans cheer on Dylan in the ring.~
Cheasy M: What a great start to our match. Folks, we've got to take a quick commercial break, but we'll be back to the action lickity split!
---
COMMERCIAL BREAK
---
---
---
BACK TO THE ACTION
---

Lissandra: We're back! Boy, those commercials sure do bring back some memories.
Cheasy M: I actually used to have one of those PeeWee dolls.
Lissandra: Yeah?
Cheasy M: Oh yeah. I played with my PeeWee all the time. In fact, I don't know if a day went by when I didn't take my PeeWee out and play with it.
CJ O'Donnell: You play with it in front of your mam too?
Cheasy M: Oh yeah! She didn't mind so long as I wasn't bothering her. Sometimes my PeeWee would get so dirty from me playing with it she had to give it a good scrubbing.
CJ O'Donnell: FOOK sake man!
Cheasy M: What? You never played with your PeeWee?
Lissandra: Okay, enough PeeWee talk, let's get back to the action!
~During the commercial break, Diana managed to get a leg up on Dylan and is in control of the match. She hits a scoop slam on Dylan and then drives her knee into his chest several times. She bounces off the ropes to go for another knee drop, but Dylan rolls out of the way. He gets to his feet and knocks her down with a clothesline, followed by another. Dylan goes for a third but Diana ducks, kicking his knee out from under him. As he fights to get to his knees, Diana hits him with a sidekick to the face. She goes for the cover.~
1!
2!
Kickout!
CJ O'Donnell: This Diana Watts has a lot of spunk. I'm liking what I'm seeing so far.
Lissandra: It's been a while since I've seen Dylan struggle so early on against an opponent. What makes her so dangerous?
CJ O'Donnell: From what I've seen, she's got amazing ring awareness for someone so new to the business. I wouldn't call her a ring general by any means, but I'm impressed with how she holds herself. Even when Dylan's been on the offensive, she hasn't seemed out of control.
Cheasy M: Great insight, CJ!
~Back in the ring Diana lifts Dylan to his feet. She tries to whip him into the ropes but he reverses, she bounces off, leaping into the air and connecting with a flying forearm. Dylan bounces to his feet quickly only to be met with a spinning heel kick. Diana makes another cover.~
1!
2!
Kickout!
~Diana shows signs of frustration. She begins climbing the turnbuckle. She leaps off the top for an elbow drop, but Dylan rolls out of the way! Both competitors are slow to get up as the referee begins to count. He makes it to five before both get to their feet. Diana rushes forward with a forearm shot. Dylan reels, then fires back with one of his own, sending Diana back toward the ropes. As she bounces off, Dylan kicks her in the stomach and hooks her for a suplex. He connects! He holds on, brings her back to her feet, and delivers another suplex. He covers.~
1!
2! Kickout!
Lissandra: That's it darling! Take it to her!
CJ O'Donnell: That's the Dylan I've been to war with. Good to see he's still got some fight left in him. He's going to need it when myself and John Nash Strader get ahold of him.
Cheasy M: Dylan Thomas has never been one to sleep on. There's a reason he has gotten to where he has in this business. He's…
Lissandra: Perfection, Personified!
~Dylan mounts Diana in the ring and unleashes a furry of punches to the side of her face. He then brings her to her feet and whips her into the corner, where she slams hard. He gets up a head of steam and runs toward her, connecting with a huge clothesline sending her crumbling to the mat. He quickly climbs the turnbuckle and jumps off, landing a knee drop right to the sternum of Diana! He makes the cover.~
1!
2!
NO!!! KICKOUT!!
~Diana Watts barely got her shoulder up before the referee counted to three. Dylan drags her into the middle of the ring. He grabs both of her legs and hits his patented Senton Leg Drop! He goes for another quick cover.~
1!
2!
KICKOUT!!!
Lissandra: NO!
Cheasy M: Once again it looked like Dylan had Diana put away, but she managed to just get her shoulder up in time.
CJ O'Donnell: These two going back and forth is what I like to see in OCW. You don't get this kind of action in other organizations. Believe me.
Lissandra: Speaking of going back and forth, Paramount and PTSD have been doing just that over the past few weeks as your rivalry heats up. How do you anticipate that playing into this weekend's matchups at the Margarita Mix? It's entirely possible you'll be facing not just Mike Zybala, but also TLS and his partner, PIC, or possibly even one of your own stablemates in Crash Rodriguez or Alexandra Calaway.
CJ O'Donnell: The issues between Paramount and PTSD have been well documented, but this weekend, a shot at the OCW World Championship is on the line. I don't give a flying FOOK who's on the other side of that ring. It could be friend or foe. When a shot at the gold is on the line, CJ O'Donnell's going to do whatever it takes to gain the victory.
~Dylan runs his hands through his hair as he pauses to catch a breath. He picks Diana back up off the apron. He places her head between his legs and lifts her for his Connecticutter. He gets her over his head but she manages to wriggle free. She rolls him up from behind.~
1!
2!
3!!!
NO!!!!
~Dylan manages to thrust his legs upward just in time to avoid the pinfall. He rolls backwards and up onto his feet as Diana does as well. The two rush forward and begin wailing on each other, exchanging hard right hands while the crowd goes wild. Dylan gains the upper hand and whips Diana into the corner. He charges forward but is met with a kick to the gut. Diana grabs his head in a front underhook position, climbs to the middle rope, and jumps off, connecting with a springboard DDT! She rolls Dylan over for the cover.~
1!
2!
3!!!


NO!!
~Dylan managed to drape his foot over the bottom rope. Diana can't believe it. She gets to her feet and yells at the referee. Dylan comes to his senses. Diana turns around, into a small package!~
1!
2!
3!!!


NO!!!
~Diana rolls through with a small package of her own.~
1!
2!
3!!!!!!!
DING DING DING
Belvedere: Here is your winner… DIANA WATTS!!!!!
Cheasy M: Unbelievable!!! Diana Watts has won her very first match in OCW!!
Lissandra: I… I truly am speechless. I—
Cheasy M: I am in total agreement with you, Lissandra. It's not that I doubted Diana's talent in the least, it's just… Dylan is the cream of the crop here in OCW. Some say even the Heartbeat of our company. For Diana to pull off this kind of upset is nothing short of amazing!
CJ O'Donnell: I would agree. I definitely had Dylan penciled in for the win here this evening.
~Inside the ring, a dejected Dylan Thomas sits on his knees while Diana gets up and backs into the corner. The referee walks over and raises her hand in victory as she clutches her other arm across her chest, wincing in pain. Dylan gets to his feet, staring across the ring at Diana. He looks to the crowd, then back to her before extending his hand as a show of respect. Diana hesitates, also looking around at the crowd who is in full support. She turns back to Dylan, extends her hand, and the two shake to the delight of the fans. Dylan drops down and rolls out of the ring, allowing Diana to soak in her first OCW victory.~
---
~The scene cuts back to the studio with Lissandra, Cheasy M, and CJ O'Donnell sitting at the table.~
Cheasy M: That was something special, wouldn't you say? Absolute class displayed by Dylan Thomas there not only with the handshake, but also letting Diana have her moment.
CJ O'Donnell: She's going places in this business if she can keep this level of intensity.
Lissandra: Dylan said all week he had been impressed with what he had seen from some of Diana's training videos, and after what we've seen tonight, I wouldn't be shocked to see her in a meteoric rise to the tops of the roster.
Cheasy M: Yeah, CJ. She just might be coming for you next.
CJ O'Donnell: Let's not get too far ahead of ourselves. Diana Watts has a long way to go before she reaches Paramount level. There is a reason why we are the absolute top group in wrestling today. Maybe one day she will be worthy of our level, but that day is not today.
Cheasy M: Strong words from one of Paramount's top stars. CJ, thanks again for stopping by and good luck on your upcoming second round matchup with JNS against Zybala and Dylan Thomas. We'll let you get going as we take a commercial break. But fans, don't go anywhere. When we come back, it's OCW Hall of Famer Bob Grenier going head to head with Victoria Strader in another epic contest.
---
COMMERCIAL BREAK
---

~The shots opens to Outcast slamming his fist into the face of a random wrestler. The shot flashes to various scenes of Outcast putting someone through a table. Outcast Stabbing Zybala with an icicle. Outcast kicking Chad Vargas in the face, and various other shots of Outcast being an overall bad @ss. The final shot is of a bloody Outcast holding his fist over his head.~
Voiceover: After a long day of taking names and kicking @ss, rather it be in the ring, at the range, in the garage, or at the office, how do you unwind?
~The shot is one of Outcast walking back down the aisle to the locker room. Outcast turns to a side profile, a Newport hanging from his lips. He smirks with the menthol cigarette hanging from his lips before flipping his Zippo open and lighting the cigarette. Outcast takes a drag and then slowly exhales. Outcast removes the cigarette from his mouth.~
Outcast: Nothing gives me more pleasure than cracking skulls, nothing besides a Newport that is.
~The Newport logo appears across the screen.~
Voiceover: Newport… Alive with Pleasure.
---
---
---
Singles Match
Bob Grenier vs. Victoria Strader
---
~The lights in the arena dim as the catchy mid-nineties opening riff of "I'm Just A Girl" hit's the p.a. system. The OCWtron lights up with a platinum crown in the middle of the tron flashing off and on as Victoria Strader steps out from behind the curtain to a chorus of cheers and some boos.~
//Take this pink ribbon off my eyes
I'm exposed, and it's no big surprise
Don't you think I know exactly where I stand?
This world is forcing me to hold your hand\\
Belvedere: Hailing from Night City, California by way of London, Ontario Canada and weighing in at 145 lbs....
~Victoria looks out at the crowd and breathes in the atmosphere.~
//Cause I'm just a girl, a little ol' me
Well, don't let me out of your sight
Oh, I'm just a girl, all pretty and petite
So don't let me have any rights
Oh, I've had it up to here\\
Belvedere: Representing the Strong and Proud…
//The moment that I step outside
So many reasons for me to run and hide
I can't do the little things I hold so dear
'Cause it's all those little things that I fear\\
~Victoria hops on the apron, wiping her boots on the apron before stepping through the middle rope.~
Belvedere: She is known as the future Queen of the Strader family… Victoria Strader!!!
//' Cause I'm just a girl, I'd rather not be
'Cause they won't let me drive late at night
Oh, I'm just a girl, guess I'm some kind of freak
'Cause they all sit and stare with their eyes \\
Victoria leans back into her corner's turnbuckle preparing herself mentally for competition.~
Belvedere: And her opponent… from Timmons, Ontario, Canada… OCW HALL OF FAMER… Bob Grenier!!!
~The legend himself, Bob Grenier, steps out onto the stage as "Where the Hood At?" by DMX begins to blast throughout the arena. The fans cheer as Bob walks quickly to the ring, slapping a few hands along the way. He walks up the ring steps and climbs through the middle rope. He stares at Victoria who doesn't seem bothered at his presence. The referee does a quick check of Bob's boots, then calls for the bell.~
DING DING DING
~Victoria wastes no time running across the ring. She begins wailing on Bob with rights and lefts. He is somewhat caught off guard and puts both forearms up to try to block the blows. Victoria hits him with a spinning back kick to the gut, folding Bob over. She quickly grabs his head and hits a snap mare, then kicks him to the back of the head. Bob rolls to the corner, grabbing the back of his neck while Victoria gives a sinister grin to a chorus of boos.~
Cheasy M: The "King of Bong Style" might have taken Victoria for granted at the beginning but she has come out taking no prisoners.
Lissandra: I have known Bob for a long time. He is an OCW Hall of Famer. He may have been caught off guard, but he will make the adjustments necessary.
Cheasy M: You know, Lissandra, some have said that Bob may be spreading himself a bit thin recently. He's been wrestling the likes of Outcast on OCW TV in addition to his commitments to HOW. He very nearly won the HOTv Championship from Clay Bird two weeks ago.
Lissandra: That may very well be the case, but this is as motivated as I have seen him in a very long time. He's working a lot, but hard work generally pays off in this business.
~Bob gets to his feet in the corner, still rubbing the back of his head. He begins circling Victoria. She goes to shoot his leg and he kicks her in the face. She backs up, then shoots again, receiving yet another kick. She rubs her cheek, cracks her neck a bit, then charges toward Bob. He throws a clothesline but Victoria ducks, rolls up Bob's back and hooks her legs around his arm, rolling him backwards for a pinning attempt.~
1!
KICKOUT!
~Bob rolls through the move and hops to his feet. He bounces off the ropes as Victoria stands. She leap frogs him as he bounces off the opposite ropes. Victoria throw her body at Bob's feet. He tries to hop over but is a second late, tripping over her body and landing face first on the mat. Victoria wastes no time, jumping off the bottom rope and hitting Bob with a lionsault to the back. She immediately grabs Bob's legs, attempting to lock in her Four Sticks submission, but he kicks her away and into the corner. Bob rolls onto his feet. He charges at Victoria in the corner with a clothesline. She ducks under causing Bob to hit the turnbuckle chest first. As he stumbles backwards, Victoria hops onto his back, rotates, and pulls him down to the mat with a pin attempt.~
1!
2! KICKOUT!!
~Bob rolls through and drop kicks Victoria in the face. She rolls out of the ring and onto the arena floor. Bob runs to the corner and climbs the turnbuckle, leaping off onto Victoria with a flying cross body block!~
Lissandra: MY OH MY!! Bob Grenier is FLYING!!!
Cheasy M: That's not the type of move we typically see from him. He's pulling out all the stops tonight.
Lissandra: Ladies and gentlemen, we'll be back to the action in no time, but we have to take a commercial break!
Cheasy M: Enjoy a word from our sponsors, which may or may not still be in business.
---
COMMERCIAL BREAK
---
---
BACK TO THE ACTION
---

Lissandra: Welcome back folks. During the commercial break, Bob Grenier and Victoria Strader battled on the outside of the ring.
Cheasy M: Victoria slammed Bob's face into the ring steps, busting Bob open. The referee has finally gotten control of the match as the two have reentered the squared circle.
~Victoria has mounted Bob in the middle of the ring, pummeling him with right hands opening his wound further. Bob's face has now become a crimson mask. Victoria takes some of Bob's blood and wipes it across her upper chest to the disdain of the crowd. Bob rolls to his stomach but Victoria jumps on his back, hooking him with a sleeper hold. She wrenches back while trying to cut off Bob's air flow. He appears close to passing out, but manages to reach out and pull himself closer to the ropes. The crowd cheers loudly, showing support for their hero. He struggles and struggles, but finally makes it to the ropes. Victoria reluctantly releases the hold. She turns to the ref and pushes him in the shoulder. He backs away with his hands raised in defense. Bob begins to pull himself up in the corner. Victoria lunges forward with shoulder blocks to Bob's midsection. She hooks his head and leaps out toward the center of the ring, driving his face to the mat with a bulldog. She makes the cover.~
1!
2!
3! NO!!
Lissandra: Bob Grenier just will not give up, Cheasy!
Cheasy M: He's losing a lot of blood here, Lissandra but there's just no quit in him. One has to wonder how difficult it will be for him to see moving forward.
Lissandra: Meanwhile, Victoria Strader is being as ruthless as we've ever seen her.
Cheasy M: She threw her twin sister off a roof and onto a transport truck trailer, nearly killing her! I fear we're just beginning to see just how ruthless she actually can be.
~Bob musters enough strength to roll out of the ring and onto the outside. Victoria climbs the closest turnbuckle and jumps off, connecting with a swanton bomb to a standing Bob Grenier! The crowd, for a brief moment, forgets how much they hate Victoria and show a sign of support for the move. She soon reminds them of why they hate her as she reaches over the barrier and rips a teenage kid's sign, knocking his drink out of his hand in the process. She reaches down and picks Bob up by the hair, which is now soaked in blood, and rolls him back into the ring. She climbs up onto the apron and to the top rope. She gets Bob in her sights and jumps off, executing a near perfect 630 SPLASH!!! RIGHT ONTO BOB'S KNEES!!! Victoria screams out in pain as she grabs her lower back. The fans jump to their feet, beginning to clap, stomp, and chant for Bob.~
Cheasy M: And with perhaps one last move of desperation, Bob Grenier has gotten back into this match.
Lissandra: Listen to that crowd, Cheasy. That's the level of respect these people have for the OCW Hall of Famer.
Cheasy M: The only thing more over than Bob Grenier is my third marriage.
~The crowd has now worked themselves into a full blown frenzy as Bob pulls himself to his feet in the corner. Victoria is on one knee in the middle of the ring. Bob runs toward her with a clothesline attempt. Victoria ducks, but Bob bounces off the ropes, lunging forward and connecting with a discus back elbow. He collapses onto Victoria's body.~
1!
2!
KICKOUT!!!
~Victoria gets her left shoulder up! Bob tries to wipe blood out of his eyes and onto the mat. He blinks a few times trying to adjust his sight. He then grabs Victoria by the hair and pulls her to her feet. He drives his forearm into her lower back three times causing her to fall forward. He hooks his arms around her waist and hoists her high into the air with a release belly to back suplex! Victoria reaches for her back in pain as Bob starts to pump himself up with the crowd's support. He waits for Victoria to get to her feet, then pulls her from the corner. He kicks her in the stomach, positions her head between his legs, and hoists her into the air, slamming her down with the Chula Vista Dirt Bomb! Bob looks to move toward her for the pin, but stumbles backwards and falls to his butt.~
Cheasy M: Bob just hit one of his patented finishing maneuvers! This match should be over!
Lissandra: He's got to muster enough strength to go for the pin. Losing all this blood has taken every bit of energy out of him.
Cheasy M: Does he have enough left in the tank?
~The crowd has thrown their full support behind Bob, who musters enough strength to crawl over to Victoria's lifeless body. He drapes his right arm over her.~
1!
2!
3!!!!



NO!!
~Victoria kicked out! Bob can't believe it, the fans can't believe it! Bob looks to the ref who verifies she was able to get her shoulder up a split second before his hand hit the mat. He sits on his knees, fully spent but willing to move on. He grabs Victoria by the hair and once again brings her to her feet. He chops her, then again as she falls into the corner. He wraps his arms around her, lifts her into the air, and spins as he slams her down with a variation of a belly to belly suplex. Bob gets to his feet and stands over her body. He looks to the crowd and shrugs his shoulders, before jumping into the air and connecting with a standing shooting star press!! He remains on top of Victoria for the cover.~
1!
2!
3!! NO!!!!
~Victoria once again manages to raise her shoulder at the last possible second. Bob Grenier is beside himself. Frustrated, he picks her back up and motions to the crowd that the match is over. He hoists her onto his shoulders in a muscle buster position and readies for his Hollinger Park Hangman finishing maneuver. Victoria begins squirming and knees Bob in the back of the head. He releases her as she lands on her feet. She reaches her arm around Bob's neck, hooking him and whipping him across her body smashing him face first to the mat.~
Cheasy M: HOOOOOOOOOOOLLLLLLLLLLYYYYYY TOLEDO!! Victoria Strader just planted Bob Grenier on the mat with a reverse Sister Abigail!
Lissandra: I believe she calls the maneuver "Never Fade Away", but I have never seen her hit it in this manner.
~Victoria rolls Bob over and goes for the pin.~
1!
2!
3!!!


NO!!!!!
~Bob Grenier kicked out!!! The fans are going ballistic!! Victoria is pissed. She angrily grabs Bob by the hair and throws him into the corner. Victoria runs, hops up, takes three steps from the rope and springs off the turnbuckle towards Bob, catching him in a spinning reverse DDT!!!~
Cheasy M: CHIPPIN' IN!!!
~Victoria makes the cover.~
1!
2!
3!!!!!!!!!!
DING DING DING
Belvedere: Here is your winner… VICTORIA STRADER!!!!
Lissandra: I can't believe it. I simply can't believe it!
Cheasy M: Victoria Strader is one of the toughest competitors in this business, but I don't know that I've seen a more gutsy performance from anyone like we saw from Bob Grenier tonight.
Lissandra: The "King of Bong Style" came to play tonight, and he literally laid it all out in the ring. It makes you wonder how much he'll have left in the tank this weekend as he and Curt Canon square off against Thunder Knuckles and last year's Mix Winner, Dolly Waters in round two of this year's tournament.
Cheasy M: I've got a feeling, regardless of his condition, Bob Grenier is going to show up and show out this Sunday. Folks, we've got to take another commercial break but when we come back, it's MAIN EVENT time!!!
---
COMMERCIAL BREAK
---
---
---
BACK TO THE STUDIO
---
~We come back from commercial to see Cheasy M and Lissandra back in the studio.~
Lissandra: Welcome back to this special edition of Tuesday Night Equality! I'm here with Cheasy M, and we've already seen some of the top wrestling in the business today. And we've still got one match to go!
Cheasy M: You're right about that! Each of our three matches so far have presented a different style of professional wrestling that no other company can offer. OCW is the place to be.
Lissandra: Before we go back to the ring for tonight's main event, any pre-match predictions?
Cheasy M: Now, now, don't put me on the spot like that, haha. How can you pick? You've got two decorated ring veterans in Mike Zybala and PIC teaming for the first time against The Sons of Krayzie. Will the well oiled machine of Duce and Byson be too much for Mike and PIC? History would say to go with the guys that do this for a living, but if there are ever two guys that can come together cohesively it's Zybala and The Showstoppa.
Lissandra: That may be true, but one has to wonder if PIC and Zybala are going to be focused this evening. Last night, we saw Mike Zybala issue a challenge to Jace Parker Davidson for a one-on-one contest. If Jace wins, he and Garry Nelson get a shot at the tag team titles from TMZ!
Cheasy M: And for PIC, he's scheduled to tag with Mike's tag partner, TLS, at the Margarita Mix this weekend AND has to begin preparing for his inevitable Savage Championship defense against Easton Alexander.
Lissandra: Mike's tagging with Dylan at the Mix too, Cheasy! And let's not forget what's on the line for The Sons of Krayzie. A win tonight catapults them right into the tag title conversation.
Cheasy M: It's going to be a great match for sure with lots at stake! Let's take you to the backstage area for some pre-match thoughts from both teams!
---
THE SONS MAKE A STATEMENT
---

~"OCW" is plastered proudly on a blue backdrop with the bold black letters with red trimming look immaculate. Holding her position in front of the backdrop is the beautiful Who'Re. With a microphone in hand, she's ready to speak~
Who'Re: Ladies and gentlemen, please welcome my guest at this time.. Duce Jones and Byson Kaliban…Sons of Krayzie!
~Byson enters from the left while Duce appears from the right. They stand on each side of Who'Re who appears confused a bit but spotting Duce's artificial left eye somehow calms her~
Who'Re: I heard that you guys now look alike but the resemblance is uncanny..
~Duce smirks, his platinum plated teeth nearly blinding Who'Re thanks to the reflection from the lights~
Duce Jones: Yea, wit' tha science of tha devil, almost anythang's possible. But that's not what mattas right now..
Byson Kaliban: No sir.. And our apologies for the brief take over but we're limited on time.
~Who'Re goes to speak but Duce cuts her off~
Duce Jones: Tonight! We draw tha names of tha Showstoppa an' Zybala.. Now Mike, me an' you go back some years now. We've battled on countless occasions an' gave each otha' hell each time but ya kno' somethin'? You currently got somethin' that me an' Byson want.
Byson Kaliban: That's right and Mike you can feel as if I'm not a threat but the last time we faced was over a years ago and now the times are different.
Duce Jones: It's different in a way that we're not tha same two men who fell to you an' Houston fo' those GCDubyaA Tag straps.
Byson Kaliban: You see PIC.. Zybala.. When the night's over and it's all said and done..
Duce Jones: We gon be tha only ones stoppin' tha show an' provin' who exactly runs this bitch.
Byson Kaliban: And that's the Sons of Krayzie..
~Byson points between himself and his brother before walking off, Duce follows suit as they both leave Who'Re standing there~
---
THE UMP HAS THE FINAL SAY
---

~The scene cuts to Willie "Mo Mo" Peterson standing alone with a microphone in front of the OCW backdrop.~
Willie: Ladies and gentlemen, allow me to welcome my guests, some might say the greatest team ever assembled. They are the U.M.P… ULTRA MEGA POWERS!!!
~PIC enters from the left while Zybala walks in from the right. Both stare into the camera in an exaggeratedly intense fashion.~
PIC: Let me tell you something Mo Mo. You call us the Ultra Mega Powers, but really we're the Unstoppable Mikey Z and the P.I.C. We're about to run roughshod all over these little punks. Sons of Krayzie, Sons of Anarchy, call yourselves whatever you want. You're about to go for the ride of your lives with these two thoroughbreds. All we know is snappin' necks and cashin' checks! Hit 'em with some knowledge, Mike!
Zybala: Let me ask The Sons of Whatever something, Mean Mo Mo. What do you get when you take this great champion that holds not one but two OCW titles, and add him to one half of the greatest tag team champions ever? You get the perfect combination that spells the demise of Sons of Horrible at Naming Children! My man, PIC and I are the cream of the crop, dig it? We hold the gold, we hold the power, too sweet to be sour! I would tell you to say your prayers, but even the Lord Above knows he can't help you perform this miracle, Ooooooh Yeeeeaaah!!
---
---
MAIN EVENT
Tag Team Match
Mike Zybala & PIC vs. The Sons of Krayzie
---
~The fans are buzzing, but soon turn to a mixed reaction as a voice begins to speak through the PA system~
"And the whole world loves it when you sing the blues… Da. Da.. Da. Da. Da.. Da…."
~The opening sounds of "Godspeed" by Don Trip begins to play as the lights inside of the arena turn a crimson hue color, soon the stage filling up with smoke. After about a minute of waiting, Duce Jones and Byson Kaliban slowly emerge through the fog, mixed emotions coming from the crowd~
Belvedere: Making their way to the ring...Duce Jones and Byson Kaliban...The Sons of Krayzie!!!
~Duce and Byson head down the ramp, focused. They simultaneously climb the ring steps on either side of the ring and enter, meeting in the middle before moving toward their corner and awaiting their opponents.~
Belvedere: And their opponents… one half of the OCW Tag Team Champions… Mike Zybala!!! And YOUR OCW Savage Champion… PIC!!!
~An edgy rock remix of The Ducktales theme by Mikal Reinvik begins to blast throughout the arena. The fans leap to their feet as PIC and Zybala walk through the curtain together, each with their respective title belts secured around their waists. PIC looks at Mike with a confused look over the song but Zybala just laughs. The two walk down the entrance ramp, smacking hands along the way before getting in the ring. They remove their belts and hand them to the referee. He calls for the bell.~
DING DING DING
Lissandra: Here we go! Both teams discussing here, who is going to start things off…
~Duce Jones looks over at Zybala and tries to get his attention. After a few seconds, Duce manages to get Zybala's attention and gestures for him and Zybala to start, saying, 'Just like ol' times, man'. Zybala shrugs his shoulders and accepts.~
Lissandra: So it looks as though it's going to be Mike Zybala vs Duce Jones, starting things off.
Cheasy M: There is a lot of history between these two going all the way back to their GCWA days.
~Duce and Zybala circle and lock up with Duce attempting a basic Arm Wrench. Zybala reverses into a hammerlock and lets go of Duce's arm. Confused, Duce turns around and Zybala immediately attempts a SUPERKICK! But Duce ducks out of the way just in time, wagging his finger and saying 'nah, nah, I don't' think so!' with a coy smile.~
Lissandra: Early SUPERKICK by Zybala - that could have been it right there!
Cheasy M: Zybala does enjoy throwing superkicks, but this early in the match I doubt it would have caused enough damage for an early finish.
~Zybala then smiles a coy smile at Duce and shrugs his shoulders as the two of them lock up again. This time Zybala takes down Duce with two Japanese style arm drags. Zybala tries for a third but Duce pokes Zybala in the eye and then proceeds to knee and beat down Zybala much to Byson's delight. After some more beating down, Duce whips Zybala into his corner and tags in Byson. Byson comes in off the tag and pokes Zybala yet again in the eye. He then shoves Zybala back into his corner and Byson and Duce shout at Scruff, telling him that PIC is trying to climb in and with his back turned, they double stomp on Zybala in their corner. Duce then claps his hands making the sound of the tag just as Scruff turns around. PIC is on the apron, stomping up and down trying to get Zybala's attention. The OCW Faithful clap along with PIC and Zybala is out on his feet.~
Cheasy M: Zybala isn't looking very good right now.
Lissandra: You're certainly right about that. I'm not sure how much more he can handle.
Cheasy M: If something doesn't change soon, this match will be over in no time. Duce and Byson have come to win.
~Zybala hears the OCW Faithful chanting his name and starts to fight back! He charges into Byson and tackles him down to the ground! He fires off rights and lefts to Byson's face and PIC and the Faithful LOVE what they see! Duce however…not so much. Zybala after a few moments manages to fend off Byson after Byson attempts to grab at Zybala's leg but Zybala kicks him away and tags in PIC! PIC is a house of fire leaping into the ring with a springboard crossbody onto Byson! This causes Duce to run in and attempt to stop PIC, but PIC has other ideas with a drop sault to Duce! PIC then lets out a primal scream and turns his attention back to Byson Kaliban!~
~PIC then charges at Byson, knocking him down with a lariat! Then a second, and a third and Byson retreats back to Duce Jones and tags in his brother. PIC bends over slightly, resting his arms on his legs, beckoning Duce in. Duce enters cautiously and the two lock up. PIC takes Duce over with a headlock takedown and holds the hold. In the process, Duce's shoulders get pinned to the mat, but Duce lifts his shoulder immediately after a one count from Scruff. PIC continues to hold the hold and manages to score a one count again before Duce knees PIC in the back of the head, releasing the hold.~
Lissandra: PIC trying his best there to keep Duce down, but he's not having much success.
Cheasy M: Duce knows what's on the line here tonight. A win against these two champions will thrust The Sons of Krayzie straight to the top of the tag team rankings. He's seeing gold.
~Duce then stands up, pulling PIC to his feet. Duce irish whips PIC into the ropes and hits a D-Trigga!!!! He smirks to the crowd but what he doesn't realise is that Zybala blind tagged himself in! Byson tries telling him to turn around but as he does so he is met by a SUPERKICK from Zybala! The OCW Faithful lose their shit and Zybala tries for a pin but only manages to score a two count! Zybala then stands Duce up and attempts another SUPERKICK but Duce ducks and grabs one of Zybala's arms and delivers a ripcord headbutt! The OCW Faithful recoil at the force of the headbutt, but Duce doesn't stop there after one headbutt! He follows through with a second headbutt and then a third, fourth and fifth! Each headbutt is stronger than the last and Duce recoils himself after the fifth headbutt so tags in Byson.~
Cheasy M: Headbutt arsenal by Duce!
~With Zybala still down after so many headbutts, Byson grabs a hold of Zybala's arm, and then the other one and holds his foot aloft above Zybala's face. Byson then brings his foot crashing down onto Zybala's face with kick after kick, and stomp after stomp! He lets them land wherever he can on Zybala's face with reckless abandon! Zybala does his best to roll away - or at least cover up but it's no good. PIC has seen enough and tries to climb into the ring to save his partner.~
Lissandra: PIC is entering the ring to try to stop the madness. Zybala is all but defenseless at this point.
Cheasy M: You have to wonder if at this point in the match the referee thinks about calling it before it gets too out of hand.
Lissandra: Under normal circumstances I might agree with you, but Zybala is a world class athlete with a proven track record. He's going to get as much latitude as possible until it's clear he can't continue.
~The ref finally manages to get PIC to his corner but you can see that PIC is obviously not happy about it. He grabs the tag rope, frustrated. Meanwhile, Byson brings Zybala to his feet and tags in Duce who grabs hold of Zybala and hits a single knee gutbuster, holding him there while Byson climbs the turnbuckle and flies off with a knee into the back of Zybala's head. Byson then runs over to PIC, knocking him off the apron while Duce goes for another pin.~
Cheasy M: This has got to be it!
Lissandra: Don't count Zybala out just yet. Yes! Only a two count! Zybala is still in this!
~Frustrated, Duce tries again to pin Zybala's shoulders to the mat, but valiantly as ever Zybala kicks out. But Duce changes tactics and plants a chinlock on Zybala and PIC hammers the turnbuckle and the Faithful clap along. Zybala tries his best to get out of the chinlock and the Faithful continue to clap and cheer! Duce switches tactics and locks in a very tight sleeper. Zybala continues to fight! But he also starts to fade! Scruff lifts an arm. It drops.~
Cheasy M: It's over now!
~Duce shouts to Scruff to do it again. Scruff lifts Zybala's arm again and it drops. Byson starts to celebrate on the apron screaming 'that's two! We got this!' Duce nods at Byson and Scruff lifts Zybala's arm once more. PIC and the OCW Faithful are going ballistic as Duce makes his hold even tighter - just to make sure! Zybala's arm starts to drop BUT at the last second….NO! Zybala holds on and PIC and the OCW Faithful celebrate! Zybala begins to fight out of the sleeper and manages to stand. Then, as the Faithful celebrate again that their most valiant hero is standing the match devolves into a fist fight!
Lissandra: There's still some life in Mike Zybala!
~Duce throws hands, Zybala throws hands! The OCW Faithful Yay/Boo accordingly and after a few seconds of this Zybala wins outright and out of nowhere hits a tremendous DDT!~
Lissandra: Zybala's fighting through! What a DDT!
Cheasy M: Amazing grit and determination on display. These fans are going crazy!
~Zybala falls exhausted! Duce reels from the DDT! Both respective partners are hammering on their corners! It's a race as to who tags in their partner first! Both reach their respective corners at roughly the same time and PIC is super rested! He runs at Byson taking him down with a clothesline. Byson is back up though and down again with a second clothesline. Byson stands up once again and PIC picks him up and throws him overhead in an Exploder suplex into the corner. Byson lands hard, arching his back but PIC doesn't care and picks him up. He almost sends Byson into the ropes but instead keeps hold of Byson's wrist and throws him backwards again, this time with a back suplex. Once again Byson lands awkwardly and PIC picks him up yet again and sets him up for a Fisherman's Suplex.~
Lissandra: Shades of PerZag there, with that Fisherman's Suplex!
Cheasy M: The Worthiest of Them All!
~Scruff slides in for the count! The OCW Faithful count along! One…….Two…….~
Cheasy M: KICKOUTKICKOUTKICKOUT!
Lissandra: Sooo close there!
Cheasy M: But not close enough!
~PIC smacks the mat in frustration and stands Byson up. PIC places his opponent on his shoulders.~
Lissandra: Could be time for The Showstoppa here….
~Byson however rolls out of it after a few punches to the head and lands on his feet. Byson then spins PIC around with a rake to the eyes. He then jumps up and attempts to hit PIC with the BK's Way! (Whiplash Stunner!) However at the very last second PIC pushes Byson away, turns around and nails Byson square in the head with a Pele Kick! He then points to the corner, causing the OCW Faithful to cheer loudly. In no time at all PIC springs to the top rope and leaps off looking for The End Result! (450). But at the very LAST second, Duce pulls Byson out of the way and over to his corner! PIC crashes at burns! Duce tags himself in and runs over to Zybala knocking him off the apron! He then runs at PIC and hits another D-Trigga! He then picks PIC up and nails him with the Duce of Clubs!!!!!!!!!!!!!!!!~
Cheasy M: Duce of Clubs!!! It's over!
~He thinks about going for the pin but changes his mind and backs up into the corner before hitting the Krayzed Knee!!!!!!!!!!!!!!!!!!!!!!!!!!!!!!!!!!!!!!! He falls in for the cover!~
1………2……3!!!!!!!!!!!!!!!!!!!!!!!!!!!!!!!!!!!!!!!!!!!!!
DING DING DING
Belvedere: Here is your winner… THE SONS OF KRAYZIE!!!!!
~Duce and Byson embrace in the ring as Scruff raises their hand in victory, soaking in the negative energy from the crowd. PIC and Zybala regroup on the outside of the ring, taking in the Sons of Krayzie celebration as we fade out.~
---
~The scene cuts back to the studio one last time with Lissandra Thomas and Cheasy M sitting at the announcer's table.~
Lissandra: Duce and Byson have done it! They've defeated Mike Zybala and PIC in an incredible match!
Cheasy M: The two champions gave it everything they had, but came up just short in the end. The cohesive energy of the Sons of Krayzie proved to be the difference this evening.
Lissandra: What a match! And what a show! We've seen Harmon Egan pick up his second major win in OCW to become the NEW number one contender to the Craze Championship...
Cheasy M: Diana Watts stole the hearts of some of the OCW faithful, and the win against Dylan Thomas in her first ever OCW match...
Lissandra: The devious Victory Strader eeked out a win against OCW Hall of Famer, Bob Grenier in an instant classic...
Cheasy M: And finally, we saw The Sons of Krayzie pick up perhaps their most impressive win to date against OCW Savage Champion, PIC, and one half of the tag team champions, Mike Zybala. What this means for the tag team title scene is yet to be seen, but they've certainly staked their claim here tonight.
Lissandra: All that, Cheasy… and we're just FIVE days away from the 2022 MARGARITA MIX!!!
Cheasy M: Oh my sweet Lord, Lizzy! It's going to be off the hook! PIC and TLS are squaring off against Crash and Ball Ball! Alexandra Calaway and Ricky Rodriguez draw a challenge in Cypher and Sahara. We've got your husband, Dylan Thomas teaming with Zybala against CJ O'Donnell and John Nash Strader, and finally it's Dolly Waters and Thunder Knuckles set to take on Bob Grenier and Curt Canon. And before the night is over… one of them is going to walk out of Rhode Island as the NEW #1 CONTENDER to the World Title!
Lissandra: Don't forget Alice Knight is stepping up to the plate, accepting HOW superstar Scott Stevens' challenge AND Easton Alexander will go toe to toe with our boss, Thaddeus Duke in a HOUSE OF HORRORS match!!!
Cheasy M: I have no idea what that is, and I'm pretty sure I don't want to find out! But what a lineup!
Lissandra: And with that... ladies and gentlemen, we're out of time! We hope you enjoyed this special edition of Tuesday Night Equality, and invite you to tune in THIS Sunday night for the Margarita Mix!!! You won't regret it! Until next time, I'm Lissandra Thomas…
Cheasy M: And I'm Cheasy M, saying… It ain't easy being Cheasy! Goodnight!!